Chinese library celebrates its new Tibetan collection, thanks to American lama Gene Smith
August 17, 2011 7:54 pm UTC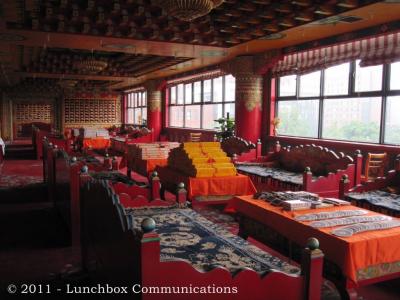 Wednesday, June 1st, 2011
There's a celebration going on today in China, at the Southwest University for Nationalities in Chengdu. The library has just acquired a "significant portion of the personal collection of E. Gene Smith," the Tibetan Buddhist Resource Center (TBRC) announced yesterday in an email. "Significant" means about 12,000 volumes of what is the world's largest private collection of Tibetan texts.
Gene's organization to digitally preserve his collection, TBRC, chose the Sichuan library because of the university's strong Tibetan research, its focus on minority education in China, and its proximity to Tibetan cultural areas. The university is celebrating its 60th anniversary.
I wrote about Gene, the American lama who saved Tibetan literature, l ast February here. Although he died last December, he's obviously still a strong presence – look at the photo from a wall of the Chinese library above.
I told his story in an article and interview in the Times Literary Supplement in 2004 – some of it is cited in my post, "Karma I Guess":
E. Gene Smith, a Utah-born Mormon who traced his lineage to founder Joseph Smith, became a rebel of a different kind — a man charged with an extraordinary mission: to save the Tibetan canon, almost single-handedly. He has been called the greatest Western scholar of Tibetan literature, the most important person behind the Tibetan collections in university libraries across the U.S. In India, he is regarded as an important lama. Lisa Schubert, who had been a director at the Rubin Museum of Art in New York, which had housed his collection, called him "a savior of civilization."
The TBRC described him this way:
E. Gene Smith was universally recognized as the Dean of Tibetan Studies. During the turmoil of the 1950s and Cultural Revolution of the 1960s, thousands of rare and important texts, many of them centuries old, were carried over the Himalayas to India and elsewhere by Tibetan refugees. Through persistence and ingenuity, Smith was able to locate, publish and make accessible – eventually in digital format – these works of religious, philosophical, historical, medical and mystical literature, as well as poetry and narrative works. His creative repurposing of PL 480 ("Food for Peace") made possible payments to local people in return for the reprinting of these documents. Smith wrote prefaces to the reprinted texts, for the first time lending invaluable historical context to the origins and lineage of each Tibetan Buddhist tradition. Representatives of more than 300 Tibetan Buddhist monasteries in Tibet, India, Nepal and Bhutan unanimously nominated Smith for a lifetime achievement award, which he received at a ceremony in January 2010. His knowledge of Tibetan literature was the source and inspiration of TBRC's online archive.
Gene is the subject of a forthcoming documentary, Digital Dharma, produced by Lunchbox Communications – who provided these photos.
I find the donation odd, given the Chinese government's ongoing occupation of Tibet and its continuing harrassment and persecution of the Tibetan people. Obviously, the university's intentions are good – but I'm not so sure about the government it answers to. Presumably, this is an extension of trust and goodwill on TBRC's part, accepted in a spirit of trust and goodwill by the Chinese university. I hope the future shows it's not premature, let alone altogether misplaced.