Lunchbox Communications launches doc division
June 1, 2012 6:16 pm UTC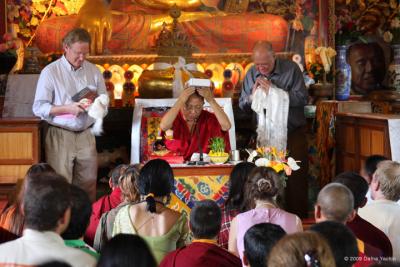 Philadelphia-based advertising and digital media company Lunchbox Communications has launched a documentary division called Lunchbox Dox, which will produce features, docuseries and cross-platform projects.
The company is aiming to build on the the success of its feature doc Digital Dharma (pictured above), which it pitched during the "So You Think You Can Pitch?" session at the Realscreen Summit, and recently secured a worldwide distribution deal with Amsterdam-based distributor Off The Fence. Anita Reher, co-founder of the European Documentary Network (EDN) created the international marketing and distribution strategy for Digital Dharma and brokered the deal.
It will begin screening on July 25 at New York's Rubin Museum of Art as part of the exhibit 'Illuminated: The Art of Sacred Books.' Additional screenings are to follow.
The film follows E. Gene Smith, a Mormon from Utah who spent 50 years working with Buddhist scholars, Tibetan lamas and laypeople to preserve and digitize more than 20,000 volumes of ancient Tibetan text after China's Cultural Revolution.
"We decided to establish a separate division for our work on long format and docuseries to ensure that our increased focus in that area receives the additional investments in time and resources required for continued success," said Dafna Yachin, the company's chief creative officer, in a statement.
"The experience we are gaining through this work will also help us develop more strategic and sophisticated marketing communications for our advertising, marketing and non-profit clients."
Lunchbox Dox's next project will be a cross-platform series that promises to combine "the intellectual appeal of documentaries with the interpersonal appeal of reality shows" by taking viewers on a tour of cultural and political environments around the world. It is also developing series and one-offs for cable networks.
The company plans to expand its Atlanta office, which has been focused on producing animation, to handle long-format production. It has also hired former A&E Television and History Channel head of production Bill Harris as executive producer.
Read more: http://realscreen.com/2012/06/01/lunchbox-communications-launches-doc-division/?utm_source=newsletter&utm_medium=email&utm_campaign=lunchbox-communications-launches-doc-division