Tricycle Talks: Interview with Digital Dharma Director Dafna Yachin
March 8, 2012 10:30 pm UTC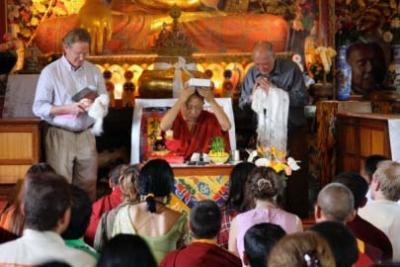 Posted by Emma Varvaloucas on 23 Feb 2012
Today's Tricycle Talk is with Dafna Yachin, the producer, writer, and director of Digital Dharma, a documentary chronicling the Tibetan cultural preservation efforts of E. Gene Smith. Smith was no James Bond or Jason Bourne, but his mission was just as epic: the recovery, preservation, and digitization of 20,000 Tibetan Buddhist and Bonpo texts. Battling Chinese bureaucracy and personal health issues along the way, Smith managed in 2008 to deliver hard and flash drives containing 12,000 precious texts to monasteries all over Nepal and India.
Tragically, Smith died in 2010, leaving behind a preservation legacy so significant that he was dubbed "The Man Who Saved Tibetan Buddhism" (read Tricycle's tribute to him here). Digital Dharma commemorates that legacy, and urges others to pick up the effort where Smith left it.
But it's one thing to summarize Smith's story. When I spoke to Yachin, it became clear that Smith's impact goes beyond what words can say. She told me in the interview, "What we learned from Gene Smith is how to live a life."
The beauty of how Smith lived his own life can be shown with just this one-minute clip from the film:
Please enjoy our interview with Dafna Yachin below, and let us know what you think in the comments! Although Digital Dharma has not yet aired, keep an eye out for it in the upcoming months. In the meantime, you can visit digitaldharma.com to see more clips and learn more about the film.